With the ACT's median house price skyrocketing to $1.015 million, unit median prices fetching $504,217, auction clearance rates at an all-time high (88%), and record prices being broken almost weekly, the housing market in Canberra – not to mention all Australian capital cities – continues to soar into overdrive.
Canberra's median house price is now the highest in the capital's history, now joining the likes of Sydney and Melbourne as the local market delivers the strongest annual growth seen in nearly two decades. This extraordinary market boom comes despite an ongoing global pandemic and continues throughout winter, which is typically considered a softer selling season.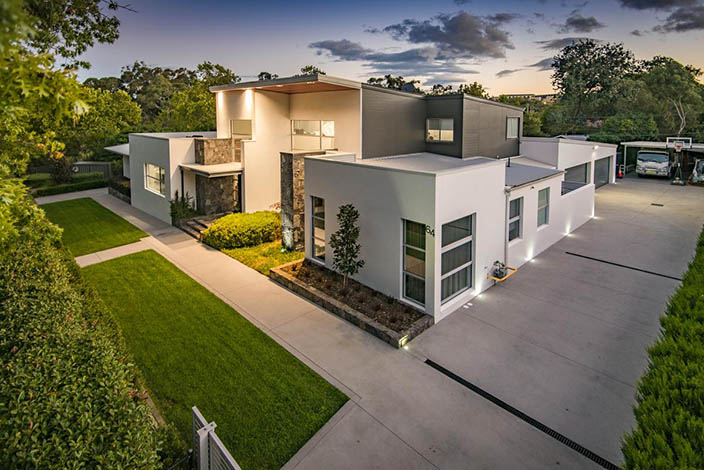 Sales Consultant and Auctioneer from Blackshaw Manuka, Mario Sanfrancesco, says the types of properties that are currently breaking records are those with a special presence, in-built character and charm. He says buyers are looking for aspirational properties offering a wide range of characteristics.
"Given the ongoing travel restrictions and low interest rates, our buyers are seeking to upgrade to a more premium lifestyle. They are already owners of property but are prepared to spend more money on luxurious resort-style living," says Mario.
He says buyers are looking for homes with spacious informal living areas, generous outdoor living spaces offering the integration of indoor/outdoor living with special entertaining features, as well as established formal gardens.
"We are also seeing demand for more opulent, segregated master bedroom suites with generous ensuites, and homes with generous car accommodation."
Mario has sold many exceptional homes across Canberra, breaking more suburb records than anyone within the Blackshaw network. When asked about the most memorable properties he has sold, he highlights 58 Dominion Circuit, Forrest ($4.55 million) and 30 Mugga Way, Red Hill ($5.85 million).
"These two magnificent residences are of the highest calibre. They are unique and really are in a league of their own. They were a privilege to sell," says Mario.
Mario's other suburb records include 125 Hawkesbury Crescent, Farrer ($2.210 million), 13 Bass Gardens, Griffith ($4.050 million) and 38 Parkhill Street, Pearce ($3.050 million).
Another home to break records in recent months is 157 Springvale Drive, Weetangera. This six-bedroom property saw over 250 people attend its auction, fetching $2.26 million under the hammer and setting a new suburb as well as Belconnen region record.
When 157 Springvale Drive was put on the market by Blackshaw Gungahlin Principal, Michael Braddon, the suburb record was $1.575 million. While the home was on the market, a new suburb record was set at 10 Gillespie Street, which sold at auction for $2.145 million. Then two and a half weeks later, it was this property that broke the record again.
Michael says the residence was fully renovated, which was the ultimate drawcard for many of the interested buyers who were looking for a "move-in ready home".
Sellers Adam and Reanna Hurley said the result exceeded their expectations.
"We couldn't recommend the team at Blackshaw Gungahlin enough. This is our second time around with Michael. After receiving incredible results with our first house in 2016, we knew we would be in good hands. He and his team went above and beyond with our home and received an absolutely amazing result," said Adam and Reanna.
Similarly, another impressive recent suburb record was set with the sale of 64 Boldrewood Street, Turner by Sales Consultant and Auctioneer, Luke Revet, fetching $4.15 million. The sale broke the previous suburb record by nearly $1.5 million, while also setting a new region record for the Inner North.
The property passed in at auction but was soon sold in private negotiations to Sydney buyers who had been looking in the Inner South and Inner North for several months.
Akin to the other record-breaking homes, the magnificent five-bedroom residence was "move-in ready" and offered a range of sophisticated and aspirational characteristics, including established gardens, high ceilings, a grand entry with two-way staircase, Italian grey honed marble tiles and many high-standard finishes and state-of-the-art features. Likewise, its large block and versatile floor plan was designed for family living with a home theatre, games room, wine/whisky cellar, pool and separate guest apartment.